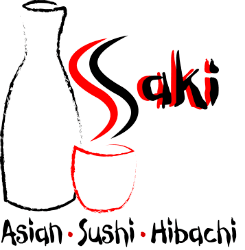 "All You Can Eat Sushi" now available!
Saki Asian Restaurant
At Saki Asian restaurant, we offer Chinese, Thai, Vietnamese, Japanese, and Korean cuisines on our menu. Don't forget to try out our extraordinary sushi and hibachi! We are located off of NW 64th St, next to Bank of the West. Currently offering carry-out via online ordering.
97%
of 95 customers recommended

Hours of Business

Sunday

11:00 AM - 9:30 PM

Su 11:00-21:30

Monday - Thursday

11:00 AM - 10:00 PM

Mo,Tu,We,Th 11:00-22:00

Friday and Saturday

11:00 AM - 10:30 PM

Fr,Sa 11:00-22:30

Carryout Hours

Sunday

11:00 AM - 9:00 PM

Monday - Thursday

11:00 AM - 9:30 PM

Friday and Saturday

11:00 AM - 10:00 PM

Asian,Japanese,Sushi,Soup,Noodles,Salads